Free shipping on orders over $70!
We're a wellness, beauty & lifestyle brand empowering people to remember that God is the restorer of the soul, and thus should be the starting point of any form of self-care.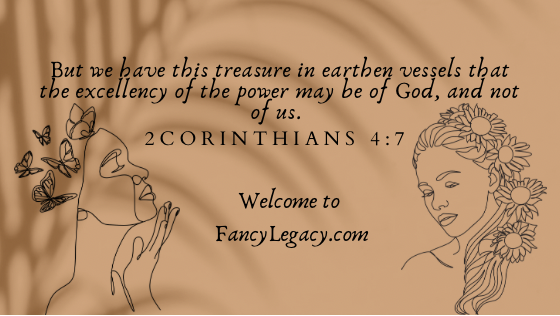 THE FANCY LEGACY STANDARD
We make our products with the knowledge of a licensed Esthetician who is dedicated & commited to always be learning & growing.
Self-care is indeed multifaceted. A trifecta that operates from the absolute grace of the Highest trifecta.
Welcome Love! I'm Veronica...
I am a Believer in the Gospel of Christ Jesus
I am Mother to 3 great children
I am a Licensed Esthetician of 8 years now and...
I consider myself to be a holistic esthetician and with that:
I believe that the pursuit of [cultivating a shining inner] beauty, [optimal] health & [total] wellness should be wholesome, where one incorporates mind, body, spirit, & soul as it relates to taking care of oneself aka divine self-care; being mindful to keep God first & foremost in all things, especially your self-care.
I'd love for you to know that my faith & trust in the Lord inspires my creativity the most and it is with that divine grace that I create all of the products available for your use/consumption. I'd love it so much for consumers to be blessed, uplifted and edified through the living word of God when they encounter this brand. I'd also love for customers to achieve healthy & supple skin when they make our products a staple in their self-care routines.
We're mindful of our choice of ingredient and use only the best in nature.
Divinely inspired formulas that are created and tested thoroughly.
We like to incorporate scripture on out packaaging with the hopes that you'd be encouraged to study as often as you are able.
But rather seek ye the kingdom of God; and all these things shall be added unto you. [Luke 12:31 KJV]
Divinely Inspired.

It was during the lockdown of the pandemic that I found myself doing more to truly understand my purpose, to develop my faith & faithfulness by doing more of what made me experience joy. I noticed that I was taking multiple baths a week because it gave me the chance to not only enjoy time alone, but I also used this time to pray more, to mindfully reflect & meditate on scriptures from the Holy Bible, to engage in praise & worship more; and to simply indulge in taking better care of myself in all facets. To me, this is divine self-care.


Fancy Legacy Beauty & Lifestyle was founded with the belief and knowledge that we were all fearfully and wonderfully made. With that in mind, we should all strive for excellence in not only who we are as an individual, but in what we do and in how we do it. Therefore, our core values center around offering only the best to our customers while encouraging them to keep God first in all things; whether it be embarking on a new venture, preparing for a job interview, or even starting a new relationship, and especially when faced with difficulties or challenges. Nevertheless, always start with prayer.


Self-care is indeed multifaceted. A trifecta that operates best from the absolute grace of the Highest trifecta.
Conscious Curation
Every handcrafted item has been created with thoughtful consideration from where the raw ingredients were sourced, its impact on the environment around us, as well as how it affects and impacts the consumer. We strongly feel that each choice we make on a daily creates a compound effect on our entire life. Let's make it great.

Here at Fancy Legacy Beauty & Lifestyle, we simply want to encourage others to fearlessly awaken a naturally creative them all while living a life that feels amazing to live. This can be done by caring for & being of service to others, maintaining an attitude of gratitude and aiming to become a better person than you were the day before. Life is a wondrous journey, let's enjoy it and in doing so let's be conscientious to take care of ourselves, others and the environment. Sending so much love to you! Thank you for stopping by, we hope your leave with something amazing!
Sign up to hear about the latest news and exclusive offers